Nursery Admission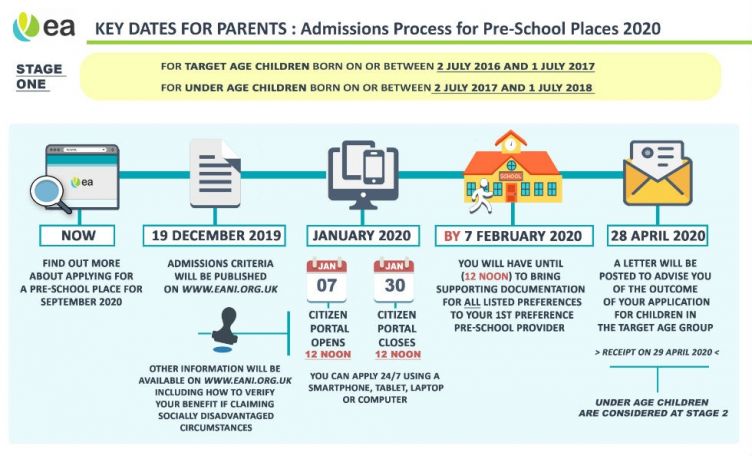 Nursery Unit Admissions Procedure
Education Authority Information
To apply for a place in Nursery you must do it ONLINE.
Please click the link to the Education Authority site where you will find the ONLINE application form.
https://www.eani.org.uk/parents/admissions
Our tips for making an application
Visit the Nursery setting (pre-school) to meet staff, find out about the school ethos and what they can offer your child.
Remember to check if the Open day information session is for parents only, or if you can take your child along.
Parent information sessions are usually to help with application process and to answer questions about the school.
Make sure you read the admissions criteria and fill in the form with that in mind. Our Nursery Unbit admission criteria is at the bottom of the page. Just click to download.
If your child is successful in gaining a place, they will have an opportunity to come for an induction play session, meet their new teacher and have a look around their new class.
We advise that you list at least 3 Nursery providers on your ONLINE application.
When your application form is complete you simply press send/complete online.
Don't forget to return any verification documents including the school's pre-enrolment form and Birth Certificate to the school you have listed as first preference. The school office will give you a receipt. This has to be done by 7th February 2020 at 12 noon.
If you are in receipt of benefits listed in the criteria it is important that you follow the instructions and return information to the school before the 7th February 2020 at 12 noon.
Don't be late with your application form! If the Nursery provider is popular and your application is late it will affect how the criteria is applied to your application.
Please let us know if you have any questions - we are here to help!
Phoenix Integrated Primary & Nursery School, 80 Fountain Road, Cookstown, Co Tyrone, BT80 8QF Tel: 028 8675 7096